Eglin Air Force Base Recreation
Eglin Air Force Base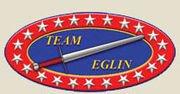 History of Eglin Air Force Base
In 1931, representatives from the Air Corps Tactical School of Maxwell Field in Alabama visited Northwest Florida and saw the possibilities of the sparsely-populated forests around Valparaiso and the wide expanse of the nearby Gulf of Mexico. James Plew, a local entrepreneur and airplane enthusiast, believed a military presence could lift the economy of the area out of the depression, and so leased 137 acres from the City of Valparaiso where an airport was built in 1933. The next year, Plew donated 1,460 contiguous acres to the U.S. government for a gunnery base and bombing range. With an established headquarters, the Valparaiso Bombing and Gunnery Base was activated under Captain Arnold Rich's command June 14, 1935. These were the beginnings of the modern-day Eglin Air Force Base.
With World War II under way in Europe, Eglin established an aircraft armament proving ground. On June 27, 1940, Congress transferred most of the lands of the Choctawhatchee National Forest to the War Department (now the Department of Defense) from the U.S. Forestry Service. The next year, the War Department activated the Air Corps Proving Ground (later renamed as Proving Ground Command). This made Valparaiso the gunnery training site for all fighter pilots in the Army Air Forces, and a major tactical, equipment, and aircraft testing site. In 1942, Lieutenant Colonel Jimmy Doolittle trained his B-25 crews at Valparaiso for their attack on Tokyo. During this time, many auxiliary fields were built on the reservation, and many still exist today, either supporting flight operations or as special testing sites.
With the end of World War II, Valparaiso was the home of cutting-edge military technology, developing missile launch techniques and drones, or unmanned aircraft. In 1948, Valparaiso's name was officially changed to Eglin Air Force Base, in honor of Lieutenant Colonel Frederick Irving Eglin, a military pilot and instructor who trained aviators during World War I. Colonel Eglin died when his Northrop A-17 crashed during a flight between Langley, Virginia and Maxwell Field, Alabama.
Two years later, the Department of Defense established the Air Force Armament Center on Eglin Air Force Base. When the Korean War broke out, testing teams from Eglin were stationed in the combat theater for live testing exercises. The Air Force's Armament Center and Proving Ground command combined in 1957 into the Air Proving Ground Center, which was redesignated in 1968 as the Armament Development and Test Center, a central point responsible for researching, developing, testing, evaluating, and acquiring non-nuclear weapons for the U.S. Air Force.
Eglin Air Force Base housed and processed 10,000 refugees from Southeast Asia in 1975, when Eglin served as one of the U.S.'s four major Vietnamese Refugee Processing Centers. Eglin performed this feat again when it processed over 10,000 Cuban refugees who fled Cuba in April and May of 1980.
Restructuring in 1992 disestablished the parent command of Eglin Air Force Base, which then merged with another command -- the Air Force's Systems Command and Logistics Command were combined to form the Material Command, which is still Eglin's parent command today. Six years later, the Air Force's Development Test Center was redesignated the Air Armament Center for the Material Command. This unit's responsibilities include developing, acquiring, fielding, and testing all of the United States' air-delivered weapons. Eglin Air Force Base also houses two United States Historic Landmark Districts: Eglin Field and Camp Pinchot.
Today, the base consists of over 463,000 acres across three Florida counties, Walton, Okaloosa, and Santa Rosa.
Information provided by Eglin Air Force Base. You can contact them at:
Eglin Air Force Base
Eglin AFB, FL 32542-5000
(850) 882-1110
Parks
Eglin Reservation
State Highway 85
Niceville, FL 32578
(850) 664-1261
Golf
Eglin AFB Golf Course
1527 Fairway Drive
Niceville, FL 32578
(850) 678-8726